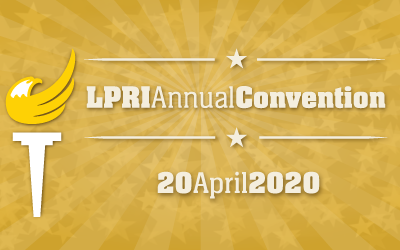 Annual Convention
4/6/2020: In response to the ongoing COVID 19 situation the LPRI Executive Committee has voted to hold this year's convention virtually. Please read the information below for further information.
VIRTUAL CONVENTION INFORMATION
Due to this year's convention being held online and to help streamline the logistics challenges, we are asking that all attendees RSVP below so that we are able to "pre-credential" members and send you the links and information to join the online meeting. The information to join will be sent via email prior to the convention.
ELECTIONS

This year, elections are for the two-year term of Vice Chair and Treasurer, as well as the annual election of member At-large.
You must be a LPRI member in good standing for at least 30 days prior to April 20, 2020 to run for office.
BYLAWS
In addition to elections, an important part of annual convention business is review of amendments to the LPRI Bylaws. CLICK HERE To review the current Bylaws and proposed amendment(s) before the convention. To review the proposed changes to the bylaws please CLICK HERE
Your LPRI membership must be current and in good standing to vote on Bylaws and in elections, and to run for office (national membership does not qualify, sorry). RENEW or BECOME A MEMBER HERE.
VOTING ELIGIBILITY
In order to be a credentialed delegate with voting privileges you must have been a member of the LPRI or a member of the National Party for at least 30 days prior to April 20, 2020 date of the convention.
Tips and info for Participating in the Online Convention:
We will be using Google Hangouts Meet to conduct the online convention. Information about using Google Hangouts Meet can be found here.
We will send you an email with the information to Join the online meeting but you must RSVP below. 
Try to login early. We will be online at 7:00 PM to allow for time to work on issues people may have. The meeting is scheduled to being at 7:30 PM
While Google meet can be used from your phone it may be easier for you to join the convention from a computer.
For best audio quality, It is recommended you use a headset or earbuds with a microphone.
If you are not talking, please mute your microphone.
ByLaws amendment votes will be taken through the chat. So while it is possible to "dial in" to listen to the audio, you will need to join the meeting though your browser or mobile app in order to vote.
Voting for the officer elections will be held using a separate polling process and will be explained in detail prior to voting.
2020 LPRI Virtual Convention RSVP Form:
Registrations are closed.