PROVIDENCE, RHODE ISLAND (July 30, 2017) – The Libertarian Party of Rhode Island today denounced the Cranston City Council's passage this week of an ordinance that defies the spirit as well as the letter of the law as declared in the Constitution of the State of Rhode Island. The ordinance bans fishing from the end of Ocean Avenue in Edgewood, adjacent to the Rhode Island Yacht Club.
"It's disappointing to see more evidence that Cranston City Councilors have still not read the constitutions they swore to support when they took their oath of office," said Libertarian Party of Rhode Island (LPRI) Chairman Pat Ford upon hearing of the passage of the ordinance. "Cranston seems determined to become the epicenter of unconstitutional ordinances based on emotional reactions to social issues. It is imperative that Mayor Fung veto this bad ordinance immediately upon receipt," Ford said.
Ford also noted the arrogance of Michael Farina, Republican Cranston city council president, who said he would not be intimidated by threat of lawsuits. In making such a statement, Ford observed, Farina dismisses another constitutional right of citizens to petition the government for redress of grievances. "Mr. Farina's attitude is irresponsible and tyrannical. This isn't about false bravery against lawsuits; it's about sponsoring and passing bad law."
"The Rhode Island Constitution couldn't be any clearer about our rights to access the shore, fish from it, gather shellfish, collect seaweed, and otherwise enjoy what the Ocean State shoreline has to offer," said LPRI Director of Public Policy John Fennessy. "According to testimony, the complaints are about noise, parking, and litter. This illegal ordinance does nothing to address those complaints," Fennessy said, "but it does infringe upon a constitutional right of Rhode Islanders."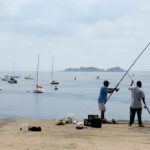 Fennessy and others in the community are organizing a "Fish-In" against the unenforceable ordinance. Details of the event are still developing, pending final passage or veto of the ordinance. Citizens committed to protecting their constitutional rights are invited to visit lpri.us/fishin to sign the petition, and register for updates.
"The Cranston City Council, and specifically its president Michael Farina, have no authority to impose this ban," said Fennessy. "As such, we, the members of the Libertarian Party of Rhode Island, challenge that ban directly. Fishing anyone?"